Consumer Tips: Do You Have the Right Auto Coverage
March 27, 2018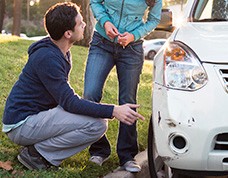 Getting just enough coverage to meet your state's auto insurance requirements might mean a few more dollars in your pocket in the short term, but if you're involved in a crash, minimal protection can result in a major financial drain.
Almost every state requires you to buy auto liability insurance, which covers the other party if you're responsible for a crash. It's important to make sure you have the right amount to protect your assets and the coverage you need to financially recover after a crash.
Chances are good you'll need more liability insurance than required because crashes generally cost more than the minimum limits, according to the Insurance Information Institute. Talk to your AAA insurance agent about how much property damage and bodily injury liability coverage you need.
You also may want to consider buying a personal umbrella policy that will pay when your underlying coverages are exhausted.
Once you've determined your liability insurance needs, consider the following:
Comprehensive coverage – provides reimbursement for damage caused by something other than a collision, like hail, a fallen tree or vandalism.
Collision coverage – covers physical damage to your insured vehicle caused by a collision, regardless of fault.
Uninsured and underinsured motorist coverage – reimburses the policyholder, or a covered family member, if they are the victim of a hit and run or an accident caused by an uninsured/underinsured driver.
Medical payments – pays for the treatment of injuries to the driver and passengers of the policyholder's car.
Now that you've got the coverages you need, it's time to choose a deductible—the amount of money you pay on a claim before the insurance company reimburses you. Typically, deductibles are $500 or $1,000; the higher your deductible, the lower your premium.
Finally, review your auto insurance whenever something changes in your life that might affect your coverage, such as buying a new or used vehicle, adding a new driver, or increasing (or decreasing) your commute.
Call your AAA insurance agent or insurance customer service, or visit your local branch for more information about auto and home insurance.