Wellness Program at CSAA Insurance Group Engages 99 Percent of Employees
March 28, 2018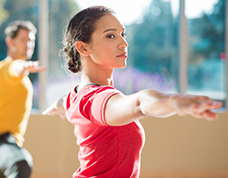 WALNUT CREEK, Calif., March 28, 2018 – CSAA Insurance Group's award-winning employee health and wellness program engaged 99 percent of employees in 2017. Employees at every company location across the United States, including home teleworkers, participated in at least one well-being activity. Since the program's inception in 2009, participation has grown significantly, reaching 99 percent engagement in 2017, an increase from 81 percent in 2016.
CSAA Insurance Group's dedicated effort to improve the health and well-being of employees is deeply embedded in the company's culture. Engaging well-being events occur throughout the year to encourage employees to take charge of their health, including fitness flash mobs, onsite athletic shoe sales, exercise fundraisers and more.
The company also provides a variety of well-being services for employees, including:
Onsite wellness coordinators across office locations
Free, annual biometric screenings
Free, onsite fitness classes for a variety of fitness levels, ranging from strength training and aerobics to yoga and meditation
Company contributions to a Health Savings Account (HSA) or Health Reimbursement Arrangement (HRA) for participating in health-related programs, such as preventative screenings, verified workouts, disease management programs, volunteer activities and more
Discounted healthy food and drink options in locations with company cafeterias

"Health and wellness are key components of our customer-centric culture," said Melissa Jones, human resources executive at CSAA Insurance Group. "Healthy employees are in the best position to provide the best service to AAA members, and we take pride in our comprehensive wellness program that supports a productive work environment for them."
CSAA Insurance Group has also received numerous awards for its wellness program and dedication to employee health, including the 100 Healthiest Employer Award by Healthiest Employer, LLC. The company has also repeatedly been recognized as a Healthiest Employer in the Bay Area by the San Francisco Business Times and Silicon Valley Business Journal.

About CSAA Insurance Group
CSAA Insurance Group, a AAA Insurer, offers automobile, homeowners and other personal lines of insurance to AAA members through partnerships with AAA clubs in 23 states and the District of Columbia. Founded in 1914, the company has been rated A or better by A.M. Best for 90 years, and is one of the top personal lines property casualty insurance groups in the United States, according to the National Association of Insurance Commissioners. The company was been repeatedly named one of the 50 most community-minded companies in America by Points of Light.
###