WALNUT CREEK, Calif., Feb. 26, 2020 – CSAA Insurance Group, a AAA insurer, today announced that employees at its Glendale, Arizona office are volunteering for The Crayon Initiative – for the sixth consecutive year – by sorting unwanted crayons so they can be melted down, made into new crayons and donated to hospitalized children.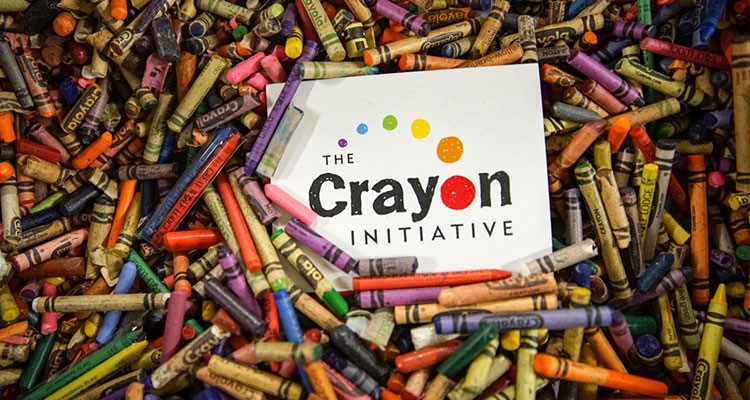 Hundreds of CSAA Insurance Group employees will volunteer for a crayon-sorting and recycling event Wednesday, Feb. 26, from 9 a.m. to 3 p.m. and Thursday, Feb. 27, from 8 a.m. to 11 a.m. The event will take place at CSAA Insurance Group's Glendale, Arizona office, located at 5353 W Bell Rd.
"We strive to provide meaningful ways for our employees to give back to the communities where we live and work – and our employees have responded with a 100% employee volunteerism rate for the last two years," said Volunteer Manager Roger Hancock. "We host volunteer events with The Crayon Initiative at a number of our locations across the United States, and they always resonate well with our employees because they're a fun way to help children and the environment."
The Crayon Initiative, established in 2014, collects discarded crayons from restaurants and other sources, remanufactures them and provides new packs to hospital pediatric wards. Crayons offer hospitalized children a creative outlet for self-expression, which can help them cope with their illnesses, alleviate feelings of anxiety, and contribute to a sense of normalcy. To date, The Crayon Initiative has collected more than 41 million crayons, and donated new packs of crayons to more than 420,000 children in hospitals around the country.
According to Bryan Ware, founder of The Crayon Initiative, creating art with specially designed crayons from The Crayon Initiative helps children take their minds off of medical challenges, and simply enjoy being a kid.
"The work we do has a significant impact on local communities," said Ware. "Our crayon recycling efforts help ensure that children have the tools they need to enjoy the healthful benefits of art and creativity."
Unwanted crayons collected by The Crayon Initiative also reduce negative impacts on the environment. Crayons are not biodegradable and create a waxy sludge that may not break down for centuries. To date, The Crayon Initiative has diverted 293,000 pounds of crayons destined for landfills.
CSAA Insurance Group employees love to volunteer
In January, CSAA Insurance Group announced that for the second consecutive year the company recorded an employee volunteerism rate of 100%, making it the only company in the United States with 3,000 or more employees to reach this milestone. The AAA insurer has achieved the highest employee volunteer participation rate for a company of its size or larger for the last five years.
CSAA Insurance Group emphasizes team volunteer events during the regular workday and offers employees 24 hours of paid time off to volunteer each year. Volunteer events are selected, managed and evaluated by employees to address a variety of diverse community needs. Employees are also supported with other corporate giving programs, including matching gifts, Dollars for Board Service and Dollars for Doers. CSAA Insurance Group has also received the Civic 50 Award from Points of Light, naming the insurer one of the 50 most community-minded companies in America for six consecutive years.
About The Crayon Initiative
The Crayon Initiative is a Northern California based-nonprofit devoted to promoting the arts for children by providing them access to the resources they need. We believe that in order to grow and learn, children need to have the freedom to be creative and express themselves through art. The Crayon Initiative organizes crayon collections that accept unwanted crayons, remanufactures them, and provides them to hospitals that are caring for our kids. For more information, visit www.thecrayoninitiative.org.
About CSAA Insurance Group
CSAA Insurance Group, a AAA Insurer, offers automobile, homeowners and other personal lines of insurance to AAA Members through AAA clubs in 23 states and the District of Columbia. Founded in 1914, the company has been rated "A" or better by A.M. Best for more than 90 years, and is one of the top personal lines property casualty insurance groups in the United States, according to the National Association of Insurance Commissioners. The company has been repeatedly named one of the 50 most community-minded companies in America by Points of Light. More information is available at http://csaa-insurance.aaa.com and on social media (Facebook, Twitter, LinkedIn).
###